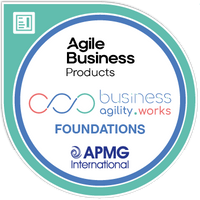 Develop an approach to business agility that'll allow you to add customer value quickly, consistently, and sustainably.
In partnership with businessagility.works and APMG, we're pleased to offer the businessagility.works® Foundations course on our e-Learning portal.
This certification costs just £300 +VAT. Members recieve 10% discount.
Alternatively you can find a trainer at APMG International
Course Summary
Insight
This course provides guidance about using the businessagility.works framework to gain competitive advantage by maximising customer value quickly, consistently, and sustainably.
The framework aligns the key operating domains of an agile business: customer, team, and leadership.
Here's what you'll learn:
The history, value and challenges of business agility
The four dimensions of the businessagility.works framework: goal, enablers, rules and agile value streams
Creating a plan to implement the framework
Assigning the enablers, defining the goal and baselining the prevailing level of agility
Setting the rules and prioritising the agile value streams
Building a centre of excellence for business agility
Audience
This training will benefit anyone who needs to adopt and adapt product/service operating models to gain a sustainable competitive advantage.
Certification
Delegates are invited to take an online exam at the end of the course:
Multiple-choice
40 questions
65% pass mark (26 out of 40)
60-minute duration
Closed-book
Ready to Apply?
Head over to our e-learning portal training.agilebusiness.org
Purchase the course with our Paypal integration
Begin the course
We will send an email shortly thereafter containing your unique APMG International exam registration code and instructions on how to book!
Complete the course materials, including quizzes for each module
Book your exam through APMG. See help here
Sit your exam online, proctored by industry leaders ProctorU
Receive your results and/or certificate!